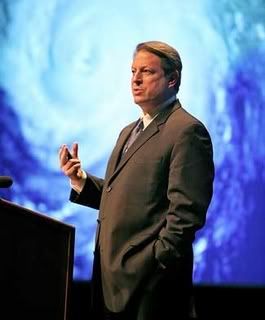 Congratulations to former Vice President, Al Gore. Gore and the U.N.'s Intergovernmental Panel on Climate Change won the 2007 Nobel Peace Prize on Friday for their efforts to spread awareness of man-made climate change and lay the foundations for counteracting it. "His strong commitment, reflected in political activity, lectures, films and books, has strengthened the struggle against climate change," the citation said. "He is probably the single individual who has done most to create greater worldwide understanding of the measures that need to be adopted." Gore, who earlier this year won an Oscar for "An Inconvenient Truth" as well as an Emmy Award, announced that he would donate the entire $1.5 million prize money to the Alliance for Climate Protection. A great many people are hoping this award will propel the former Vice President into announcing a bid for the presidency, but the general consensus is that will not be the case, sadly.
Speaking of Vice Presidents, the man currently holding that office, Dick Cheney, was dragged into the headlines when former President Jimmy Carter called him a "disaster" for the country and a "militant" who has had an excessive influence in setting foreign policy. "He's a militant who avoided any service of his own in the military and he has been most forceful in the last ten years or more in fulfilling some of his more ancient commitments that the United States has a right to inject its power through military means in other parts of the world," Carter told the BBC World News America in an interview that took place on Wednesday. Since the remarks became public, Cheney has remained silent, relying on his wife, Lynn to hit some cable news and talk shows to defend him. If Cheney chooses to hide behind his wife's skirt and allows her to fight his battles for him, perhaps he should change his name from Dick to Kitty.
Another much debated story this week revolved around sexism of the most stupid kind. Kiefer Sutherland was sentenced this week to 48 days in jail for driving under the influence. The star of the television series 24 pleaded
No Contest
to the charges and agreed to the jail time after his attorneys and prosecutors negotiated a plea deal. The stupid part of all this, beyond this guy's need to repeatedly drive drunk and then get caught, was a number of cable analysts claiming sexism because of the way this story was reported. They claimed Sutherland was treated more fairly by reporters and paparazzi than some of the charter members of the Bimbo Patrol, such as Paris Hilton, Britney Spears, Lindsay Lohan and Nicole Ritchie. Of course they're treated differently and there's a good reason for it. Sutherland is a talented actor with a viable career in film and television. He clearly has an alcohol problem but he's not a public spectacle. The bimbos, on the other hand, are untalented leeches who are only famous for getting drunk, going to rehab, overdosing on drugs, going back to rehab, shaving their heads, getting knocked up, making sex videos, being born into wealth and going back to rehab. It's not sexism, it's reality.
If Mitt Romney becomes President of the United States, I have to assume the Oval office will be converted into a law library. The flip-flopper extraordinaire was participating in a republican debate in Michigan on Tuesday. He was asked if he were the president, would he get Congress's authorization to take military action against Iran's nuclear facilities? Romney responded "You sit down with your attorneys," explaining his decision-making process in a time of potential crisis. "You know, we're going to let the lawyers sort out what we need to do and what we didn't need to do.'' Certainly, he added, "what you want to do is to have the agreement of all the people --leadership of our government as well as our friends around the world where those circumstances are available." What the hell does that mean? Every time a crisis requires a decisive response, Mitt is going to take a meeting with his lawyers and make sure his ass is covered before signing anything. If there was even the remotest chance he could actually be elected president, I would be dumbstruck. You know, the same condition the president we have now is afflicted with 24/7.
My favorite story of the week surrounded another high school punk bringing guns to school. This latest version involved 14 year old Asa Coon, who decided to settle a score with teachers and fellow students by shooting first and not even bothering to ask questions. To make a long story short, Coon fortunately did not kill anybody but himself. What makes this story amazing to me however, was the reaction of the alleged young adults attending the high school in Cleveland, where this event took place. A great many of the students panicked when the shooting began. That is completely understandable. Some of the kids, however, grabbed their cell phones and called 911 to report the incident. That was very a commendable response. What was not understandable or commendable was that many of the "young adults" grabbed their cell phones to call their
mothers.
Teenagers hate being treated like children, but this kind of behavior clearly demonstrates they are children. What did they think their mother was going to do? Write them a note forbidding the kid with the gun to shoot them. They needed to take cover, protect themselves and their classmates, secure their classroom the best they could and try to safely escape the building if possible. But don't call your mother in a crisis to tell her to call 911 and then expect to be treated like a young adult. You're obviously still a child and should be treated as such, until said time you can prove you really are a young adult.
You're in your teens. It's time to start thinking for yourself. Pay attention in school and learn something. Have some ambition and learn to adapt. Grow up with a goal to be the next Al Gore rather than than the next Dick "Kitty" Cheney, Britney, Paris, Lindsay, Mitt or one of Mitt's lawyers. Then you can grab your cell phone and call your mother.......