Somebody please pass me the
Pepto-Bismol
. Just the very thought of entertainment legend Whoopi Goldberg, House Speaker Nancy Pelosi and the Speaker's husband Paul Pelosi surrendering to the temptations of a passion filled
ménage à trois, is enough to make me want to convulsively shake, rattle and roll my intestines through my exploding skull. Now don't get me wrong, I'm very supportive of the important role a
ménage à trois
can play in everyday life. However, in the spirit of full disclosure, I'm putting much more thought into the important role it would play in my life than it would in the lives of "Whoopi and the Pelosis." Hmmm, that has serious potential as the title of a hip new sitcom on FOX's fall line-up. I'm trying to fathom the point of this program and what audience they're attempting to target. Let me see where the evidence leads me.
Let's start with the distinguished panelists of today.



Barbara Walters is the venerable 78 year old matriarch of the program. I don't want to say Barbara is getting up there in years, but keep in mind she's closer to being 90 years of age than she is to the social security eligible age of 65.

Joy Behar is a 64 year old comedienne, actress and writer. Can anybody off the top of your head name one movie, television program or literary project she's ever played a prominent role in?

Elizabeth Hasselbeck is a 30 year old woman. She was born in Rhode Island and was on Survivor. She's perhaps best know for being a right wing hand puppet.


Sherri Shepherd is an overweight 40 year old African American woman who apparently has had some minor guest starring roles in some innocuous sitcoms. Her greatest contribution to the show seems to be her resemblance to Oprah or the original obese black woman who got fired from the show. Thankfully, I can't recall her name and don't want to either.
Whoopi Golberg is the 51 year old star of stage, cinema and television. She's 51? I thought she was much older than that. She's controversial and will remind people of Rosie. As far as I know, she's the only person who ever offered to have a threesome with the current Speaker of the House and the Speaker's spouse. I may be wrong on that fact. There are rumors circulating that Britney Spears recently propositioned former Speaker
Dennis Hastert
and his lovely wife.
Ok, what do we have here? First I should notate I just spent the past three hours in a catatonic stupor staring blankly at the screen. I don't think I blinked my eyes the entire time. I simply have no idea what we have here, but I did manage to come up with the following epiphany. This is a television program that melds the unique talents of five diverse and talented women by celebrating their views on this crazy world we live in. I realize nobody is going to buy that, so afford me the opportunity to be honest. I just read that this program has been on the air for more than 10 years and never once in those 10 years did I watch this program. So my first theory is that The View is not a show for men. I don't think they want men to watch either. If they did,
Jessica Alba
,
Jessica Biel
,
Giselle Bundchen
,
Adriana Lima
and
Miss Teen, South Carolina
would be hosting the show from the beach instead.
However, if I can be serious for just a few moments and I mean a very few moments, I think The View is primarily a program geared towards women and tries to provide a little something for all who watch. The hosts represent a cross section of women from the far left to the far right and those in between. The women are Jewish, Italian, Christian, African-American and Whoopi-ish. They range in age from 30 to nearly 80 years of age. The show seems to emphasize inclusiveness rather than exclusiveness. So even though The View is a very easy mark for ridicule and satire, it appears to serve its purpose. It makes ABC a lot of money and we get to visualize Whoopi and the Pelosis like none of us ever could have imagined or wanted to, for that matter.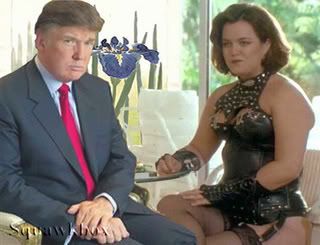 I think the one mistake the show made was not finding a way of retaining
Rosie O'Donnell
. I am of the opinion the show lost its buzz when it lost Rosie. I admit checking You Tube somewhat regularly to see if she and that tonsorially [
sic
] challenged gasbag,
Donald Trump
were exchanging pleasantries. If the producers of the program were smart and contacted me for my thoughts on how to make the show flow the right way, I would tell them to stick with what people want to hear. I know I've mentioned this repeatedly but I just can't seem to fully erase my hard drive of Whoopi and the Pelosis or the recent revelation made by Barbara Walters. Apparently the 78 year old has an interest in "DOING" country recording star, Tim McGraw. Country singer
Faith Hill
was a guest on The View the other day. Upon being introduced, Barbara Walters jokingly made the sexual reference regarding Hill's husband, fellow singer Tim McGraw. Ewwww.
Please ladies, no more jokes about senior threesomes and 78 year old woman's sex fantasies. That's just wrong. I would counsel the hosts, the next time one of you gals wants to discuss sexual fantasies, try to at least phrase it in terminology that people can relate to. Here's a suggestion. Since your show is televised late morning or early afternoon, combine sex with lunch. Reference a
knockwurst
chasing a
custard filled donut
through the
Queens Midtown Tunnel.
Hmmmm, that reminds me, time to have an old friend for lunch....