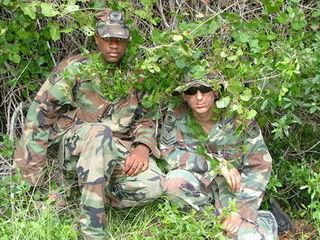 Here we go once again. The U.S. Military believes it has dealt devastating and perhaps irreversible blows to al-Qaeda in Iraq in recent months, leading some generals to advocate a declaration of victory over the very group Commandant Bush has long described as the "most lethal U.S. adversary we faced" during this nearly five year old war. But as the White House and its military commanders plan the next phase of the war, other officials have cautioned against taking what they see as a premature step that could create strategic and political difficulties for the United States. Such a declaration could fuel criticism that the Iraq conflict has become a civil war in which U.S. combat forces should not be involved. At the same time, the intelligence community, and some in the military itself, worry about underestimating an enemy that has shown great resilience in the past.
So now George Bush must do what he does best, he must start droning on and on about specifics he has decided upon, that by their very nature contradict themselves. Why did this country ever go to war in Iraq in the first place? As I recall, it was over weapons of mass destruction or WMD, to capture Saddam Hussein and bring our greatest enemy to justice and to defeat and expel al-Qaeda from within the borders of Iraq. WMD, now there's a golden oldie that never loses its charm. There NEVER was WMD in Iraq, so I'm going to declare that mission, accomplished. Saddam was captured by U.S. forces, tried in a criminal court, convicted and hanged in that classic You Tube feature. That mission seems rather accomplished as well. The third goal in the Bush master plan was to deliver a knockout blow to al-Qaeda and either kill them or drive them back into the caves along the Afghanistan and Pakistan border. We have a trifecta. So, what's to prevent the troops from packing up their stuff and blowing town like a cool breeze during a dust storm?
That last question can be answered in two words, George Bush. How can Bush leave a country that he is determined to occupy? The White House has once again been completely caught off guard. This is the very group that manufactured phony evidence of WMD, convinced trusting Americans that Iraq was the epicenter of 9/11 planning, that Saddam was responsible for the very planes that struck the twin towers and pentagon, that nuclear weapons were being stockpiled in the deserts of Iraq to ultimately bomb the United States and if we didn't defeat them over there, there would be an Iraqi al-Qaeda guy behind every tree over here. We're less than five years into this war and haven't even dropped $1 trillion yet, how can we walk away from all this and come home with our tails between our legs whilst declaring VICTORY? Quite simply, we can't.
The White House is at this very moment exploring every square foot of Iran in order to determine where the optimum place to drop bombs would be. These dangerous fools are leading this country into yet another costly trap. Iran is a much larger country than Iraq with many more soldiers. Does anybody think for one second that the Iranians will sit back and allow themselves to be attacked and not respond? They're planning this very second as well. I have no idea what their first response will be when they're attacked, but the sad thing is, neither does the White House. These buffoons are preparing to once again prove Albert Einstein's theory of insanity. If you're not familiar with that theory, it defines insanity as repeating the exact same action over and over, but expecting a different outcome each time. For the final 15 months of Bush's term, this country remains one step on a banana peel away from great injury.
The United States is still going through a costly lesson of what can happen when dangerous madmen go unchecked and act out their blind vision of how the world shall be. This has been one of man's faults throughout the history of civilization. The Roman Emperors tried and ultimately failed 2,000 years ago, the British and Spanish failed through the middle ages, Hitler failed more than 60 years ago, but only after millions of innocent people suffered and died. Now it's Bush's time to repeat the same basic stupid mistakes in this new millennium. The only thing more frightening than a mentally unbalanced, corrupt ideologue with a vision of how the world should be is a
stupid
mentally unbalanced, corrupt ideologue with a vision of how the world should be. Bush never admits he's ever wrong, he never acknowledges things could have been handled another way and always allows his insanity to think it can erase the nonstop supply of indelible failures that constitute his presidency.
I recently was speaking to a very bright Romanian student who is getting her masters degree in international law, and I was struck by how much she knew about American politics. I would venture to say she knew far more than 90% of Americans do. She has a far greater respect for the American Judicial and Legislative Systems than she does for her own country. I was very impressed with her knowledge and theories of the American influence in world affairs. When I asked her what the Romanian people think of President George W. Bush, she paused for a moment and then answered softly,
"we don't."
I smiled for a second and thought to myself,
"we do."
We have to, unfortunately. But for right now, I wish we could not only turn off the bright lights that illuminate Iraq, but the dim lights in the White House that illuminate nothing....