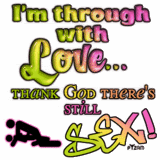 What constitutes proper intimate etiquette today? Let's have some wicked hook-up sex baby, or oh darling I love thee so, allow me to make passionate love to you. Does it really matter? Both proclamations are posed with the same end result in mind. Obviously, I'm opining about this as only a guy would, but cut me some slack, I'm only a guy. We gentleman generally start thinking about sex at the same time we begin morphing from boyhood into manhood. That transition occurred in me between my 13th and 14th birthdays. My sex hormones started producing testosterone at approximately the rate Exxon was turning barrels of crude oil into gallons of high performance gasoline. All of a sudden I wasn't so sure I was in fact the product of a true immaculate conception. However, I was still convinced my parents purchased my siblings at a flea market or a liquidation sale where EVERYTHING was priced to go.
I was experiencing feelings previously unfelt and when the sun was at just the right angle, I swore I detected a hair or two emerging from my chin and maybe another place as well. I also felt a certain level of confusion as to why I was having such great difficulty uttering a sentence in a single octave tone anymore. A run on sentence gave me the basic tonal range as say, Pavarotti. As an inquisitive youngster, I clearly had some questions that required immediate and concise answers, so I decided to do the right thing and go to a trusted source. As an impressionable 13 year old, I was fortunate to have a sophisticated 14 year old friend who knew just about everything. After all, he not only maintained a solid if unspectacular 2.5 grade point average, but he had an older sister that seemed very popular with every guy with a tattoo and motorcycle within a three square mile radius.
Ed Seaver was going to become my mentor in the long, hot summer of my 13th year on this earth. He was going to lay the foundation and building blocks for all my future mating rituals in what would become known as the Ed Seaver College of Sexual Knowledge. I was a kid with a million questions and fate brought me together with a kid that had a million answers. I was a sponge alright and Ed was a 14 year old paperboy with an older sister who hung out with biker guys with tattoos. Ed began as I recall, like any good professor would, with the basics. I don't really recall all the course material but I do recall saying "wow, seriously?" a lot. I was especially surprised to find out how many of our body parts had such multi-tasking abilities. Once I got the basics etched in my memory banks, I was now ready to ask some very intelligent questions to take my new found knowledge to the next level.
I grew up in a household with evil twins. Now that I understood more about their conception, I had some brilliant follow up questions for Ed. Having a far better grasp (so to speak) of what went where and what specifically to do whilst it was there, I wanted to ascertain the difference of how twins and singles like myself were conceived. I point blank asked Ed "if your goal was to have twins, did you have to perform the act rapidly two separate times"? Ed explained not exactly, something about eggs separating. I thought he meant like separating the yellow part from the white, but decided not to pursue that until later. This went on for the bulk of summer and by the time school was ready to start back up, let's just say I was feeling cocky. It would take another summer, a 4th of July fireworks display, a golf course, a bottle of Bacardi Rum and a 15 year old blond headed girl named Susan to put my training to practical use, but much like the bombs bursting in air, I was off and ready to embark on my new life as a love machine. You see, the longer ago the infamous 4th of July event took place, the better I was.
Back in the present. So I took a little detour, admit it, it brought back memories for all of you. I am still wondering what the real difference is between sex and love. I personally think sex is sex and love is love. Every day people profess their love for something not necessarily associated with sex. I know people who love hot dogs. Note I'm saying you
shouldn't
have sex with a tubular mixture of pork and beef ranging in size from six to 12 inches, not that you
can't.
People love chocolate, ice cream and the Green Bay Packers, but not generally in a sexual way. If I'm to be honest, no matter how much two or in some isolated situations where three people may love each other to the core of their very souls, sex is still just sex. Some people will say it feels better when you love your partner, but I truly believe that's more of a psychological phenomenon than an actual superior physical feeling.
You don't need to love a person to have sex and you don't need to want sex with a person to prove love. Sometimes you just need to talk to somebody or be willing to listen. It's nice sometimes for a guy just to look at a person and think to yourself if I had 10 minutes, she would be the most satisfied woman on the planet, but you think that's really so? My problem is I never discussed this with Ed Seaver. I wish I had, but it's not an option. I found out the guy I would later dub Sex-Ed, my childhood mentor and friend, committed suicide not too long ago. As so often happens, kids grow up and move on to new phases in their lives and don't stay in touch with those who had a part in making you what you are today. Ed helped me during that long hot summer as we air-mailed newspapers and talked about life as new teenagers. My only regret is not being able to thank Ed right now and ask him if he wanted to talk about himself and how he was doing. I'd rather know the answer to that question than the one I posed in the title. Rest in Peace, Ed.......