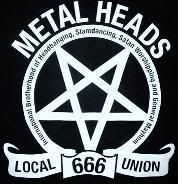 Isn't it about time our planet organizes and forms a union to protect our rights just as much as it does for today's
Ernest Hemingways
and
Anne Rices
? You know who I mean, the clever authors of today, who write sitcoms, soap operas and literary masterpieces such as Desperate Housewives. Some 12,000 screenwriters went on strike against the U.S. film and television industry on Monday after the collapse of last-ditch contract negotiations aimed at preserving nearly 20 years of Hollywood labor peace. I was initially speechless as to what I should write, and not one Hollywood writer to feed me a line. Oh the humanity. People from Alaska to Florida and from Maine to California are terrified at the prospect of missing the biting wit and sheer genius of programs such as Two and a Half Men and Cavemen. At least with Cavemen, you can still see them on television because Geico Insurance is now sponsoring every single broadcast program. This allows them to show the same fingernails on the blackboard, nausea inducing commercials every single time you turn on the television.
I have no idea what the salary structure is for these titans of literature, but I would bet $100 they earn considerably more money than the average US worker in the USA earns and considerably more than our average customer service and technical support experts living abroad in India, Pakistan and The Philippines do. But the one thing nearly all people have in common is the belief they are vastly underpaid. Even the very people who write scripts for movies and television, as well as jokes for John Stewart, Steven Colbert and David Letterman need the protection of a union. It seems these writers are of the belief they are entitled to an increase in "residual" fees they earn when their film and TV work gets reused in DVDs and Internet downloads. They also sought new fees on original material written for the Internet, cell phones and other digital formats. Maybe they should be paid by the syllable as well?
Unions have been in this country since before this country began. The purpose of course was to protect honest, hard working laborers from unscrupulous owners and bosses who would fire a worker if he or she could find another person willing to perform the same job for less money. You know, just like Walmart still does today. Major unions such as the AFL-CIO assisted workers in providing for their families and enabling them to purchase homes and automobiles and send their kids to college. The union members couldn't get arbitrarily fired for no good reason. It was only when management tried to low-ball the union when contracts expired, did workers vote to authorize a strike. The issues were simple. As the cost of living went up, workers merely wanted their paychecks to keep pace.
Now here we are today when so many of these industries that built and sustained this country throughout its history, have moved their headquarters overseas so they can hire non-unionized workers willing to perform the same jobs for a fraction of the money. Idiots like George W. Bush love to spew the same garbage repeatedly about how our lax border security allows aliens to stream into this country. People claim these aliens should be permitted to stay and even get driver's licenses because they will do the jobs that Americans won't. They never finish the sentence however. What they should say instead, is that aliens are willing to do the jobs Americans won't do for $3 per hour. After all, one country's poverty level is an undocumented worker's dream of success. No wonder I can't sleep at night, these poor screenwriters are living in poverty because they're not getting a few extra pennies for dvd and internet download fees. No writer would type such crap on a keyboard for fear of how ridiculous and petty it would make them appear.
I have always believed if a skilled worker feels he or she is vastly under appreciated and underpaid, they should take advantage of their skill, pack up their stuff and move to a place where their talents are commensurately synced up with the money they feel they deserve. Most professional athletes today are making far in excess of an annual salary of $1million. Alex Rodriguez,
aka
Mr. Anytime But The Playoffs
just exercised a clause in his contract, allowing him to opt out of his annual stipend of $25.2 million, because he and his agent believe he is underpaid. Has A-Rod or his agent ever seen video tape of his playoff performances? I think not, because if they did, A-Rod would be kissing whoever he considers to be God on his mystical ass rather than seeking more money. By the way, A-Rod and every other professional athlete in this country is a card carrying union member. I wonder if those poor, put upon millionaires need the security of a union as much as the slave laborers in Malaysia earning 30 cents a day who make their uniforms.
Good Luck screenwriters, I hope and pray you get everything you deserve. Same to A-Rod, playing baseball for six months a year for a mere $25.2 million is as much an insult as your October stats. But you and I, much like the 131 year old goofball who greets us at every Walmart in the country should rise up and demand we all become unionized. We don't have health insurance, can't we at least have a union? Someone who will negotiate just for us. I don't want more money necessarily, I just want to watch Two and a Half Men and be able to go to a baseball game for less than $45 per ticket. I just want better presidential candidates and cleaner air. I don't want to get yelled at by my mother every time we speak to each other. I need a union who will do these things for me. I need this now more than ever because I presently have no cavemen or desperate housewives to play with.......