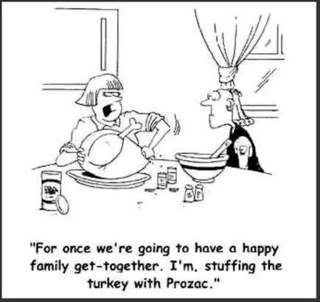 Now that it's Thanksgiving Day, we're ready to prep and cook the actual turkey. Remember to remain focused on the task at hand. The sooner your guests have been fed,the sooner you can stampede them through the nearest door to their waiting vehicles.. Now, using that as your primary motivator, let's get to work, shall we?
Turkey
For the first time in modern history, my top secret turkey recipe is about to be released to the public. Gobble, gobble.
Ingredients: one (1) stick of butter, softened to room temperature, providing of course your room is not located in the north pole.
salt
tabasco sauce
paprika
black pepper
ground red pepper
garlic salt
onion powder
poultry seasoning
flour
Preheat oven to 350 degrees. First step is to remove all of the assorted bags of disgusting stuff crammed inside inside your turkey. Thoroughly rinse bird with cold water. Pat dry with clean paper towels. Liberally sprinkle salt inside the turkey's body cavity. With turkey on a large platter, thoroughly coat entire bird with the softened butter. Any excess butter can be placed inside the cavity. Season with tabasco sauce, paprika, garlic salt, onion powder, black pepper, ground red pepper and poultry seasoning. Sprinkle flour over top of turkey. Place turkey in a roasting pan and cover with a tent of aluminum foil. Bake your turkey for 22 minutes per pound. When there is 45 minutes remaining, remove the aluminum tent and baste your turkey with the pan juices. Broil for the final 5 to 10 minutes.
Gravy
Once the turkey is completely cooked, remove from the pan to cool. Leave only the juices behind. Pour pan juice into a measuring cup and let stand until fat separates. Pour 1/4 cup fat back into the roasting pan placed over two burners at medium heat. Discard remaining fat. Whisk in 1/4 cup flour. Add enough liquid (broth, wine, water) to the turkey juices to total 3 cups.
Slowly
add the juices into the flour mixture, stirring vigorously to blend well and avoid lumps. Bring mixture to a simmer, stirring constantly. Next, bring gravy to a boil, stirring until thickened. Season with salt and pepper to taste. Serve immediately.
Cranberry Almond Biscotti
Ingredients: 2 1/4 cups flour
1 cup sugar
1 teaspoon baking powder
1/2 teaspoon baking soda
1 teaspoon cinnamon
1/2 teaspoon nutmeg
2 eggs
2 egg whites
1 tablespoon vanilla or almond extract
1 1/4 cups sweetened dried cranberries
1/4 cup sliced almonds
Preheat oven to 325 degrees. Combine flour, sugar, baking powder, baking soda, cinnamon and nutmeg in a mixing bowl. Transfer to wax paper. In the same bowl, whisk together the eggs, egg whites and extract until just combined. Add the dry ingredients and, using an electric mixer on medium speed, mix until just moist. Add the cranberries and almonds and mix just to combine. On a floured surface, divide batter in half and pat each half into a log about 15 inches long and 1 1/2 inches in diameter. Place log on a baking sheet and bake for 30 minutes.
Remove from oven and reduce heat to 300 degrees. Using a thin bladed serrated knife, cut each log crosswise into 1/2 inch thick slices. Stand the slices upright on the baking sheet and bake another 20 minutes. Let cool and store in loosely covered container.
White Chocolate Cheesecake with Cranberry Swirl
Ingredients for Cranberry Swirl:
1 1/2 cups cranberries
3/4 cup orange juice
1/4 cup sugar
2 tablespoons cranberry or orange liqueur
1 tablespoon grated orange peel
1/2 teaspoon cinnamon
Ingredients for Filling:
6 oz imported white chocolate. finely chopped
three 8 oz packages cream cheese, room temperature
3/4 cup sugar
4 large eggs
For cranberries - Combine all ingredients in heavy small saucepan. Simmer over medium heat until cranberries lose their shape and mixture thickens slightly, stirring occasionally, about 8 minutes. Transfer mixture to processor and blend until smooth. Strain. Cool.
For filling - Preheat oven to 350 degrees. Stir 6 oz white chocolate in top of double boiler over barely simmering water until melted and smooth. Cool slightly. Using electric mixer, beat cream cheese in large bowl until smooth. Mix in sugar. Beat in eggs 1 at a time, beating well after each addition. Gradually mix in white chocolate.
Pour half of filling into 9 inch diameter spring foam pan. Drop half of cranberry mixture atop filling by 2 tablespoons, spacing evenly. Use small sharp knife to swirl cranberry mixture into filling. Carefully pour remaining filling over. Drop remaining cranberries atop filling by 2 tablespoons, spacing evenly. Again, swirl cranberry mixture into filling. Bake cake until edges are puffed and golden, about 40 minutes. Cool on rack. Chill overnight.
Run small sharp knife around sides of pan to loosen cheesecake. Release pan sides. If desired, press white chocolate curls onto edges of cheesecake.
Now feel free to loosen your pants, say ahh a few times and for your grand finale, further deplete your planet's shrinking ozone layer with noxious fumes. Make sure you remain conscious. The following video selection shall demonstrate why........