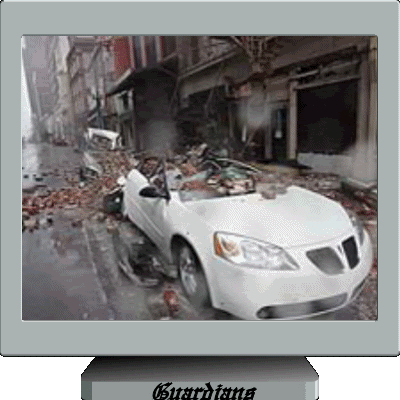 You may not remember exactly what you were doing two years ago today, but I can assure you that everybody who was in New Orleans that fateful day certainly does. It was on August 29, 2005, that the city of New Orleans was forced to helplessly stand by as they were devastated by Hurricane Katrina. Most experts theorize the causes of such mass destruction, along with many of the dead and injured residents were a direct result of the disgraceful policies of the George W. Bush administration.
An excellent case can be made that President Bush was directly responsible for diverting funds away from the people of New Orleans to use in his deceitful war in Iraq. The Bush Administration did this with full knowledge of the impending danger lying ahead. The highest government agency in charge of dealing with disasters, the Federal Emergency Management Agency, (
FEMA)
warned of the potential for a calamitous disaster as early as 2001.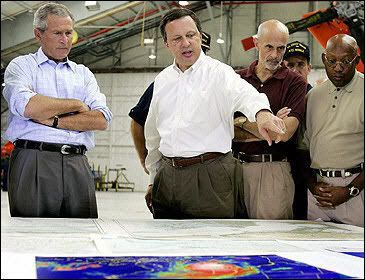 " YOU DID A HECK OF A JOB TOO, BUSHIE"


A direct result of the Federal Government's complete abandonment of New Orleans, was that tens of thousands of people were trapped without food, drinking water, a place to sleep or electricity. Thousands of homes were destroyed, and the death toll mounted by the hour. This was destined to become the worst disaster in the history of the United States. It mostly affected African-American people, who made up the majority of the population in New Orleans, as well as the majority of affected rural sections of Alabama and Mississippi. They suffered disproportionately because clearly, their misery and suffering was not addressed in the same manner a predominantly white, mostly republican, upscale section of the country would have been treated.
In the almost immediate aftermath of the storm, network and local news crews from all over this country, and soon the world, would descend on New Orleans to provide video tape and photographic evidence of the near total destruction and incapacitation of the famous city. Desperately poor and often dying people futilely attempting to find drinking water and anything edible for their children or for the elderly, was flashed around the world. There seemed to be just one player missing. Let me refresh your memory of who that might be. This, of course, would be the very same commander-in-chief who went AWOL, missing in action, immediately following the infamous plane crashes into Lower Manhattan's Twin Towers on 9/11, nearly four years earlier. This time our
"Fearful"
Leader
wasn't hiding underground, wetting and soiling himself in a Nebraska hole, he had other priorities. He was busy doing what he does best,
VACATIONING
for a change on his stump and brush challenged Crawford, Texas ranch.
On August 30th, more than 24 hours after the massive storm nearly swamped all of New Orleans, aides were dreading over who should tell the
Dullard-in-Chief
that he should cut his vacation short, and address the devastation that was being broadcast non-stop every place across the world that Katrina didn't destroy. So finally on September 1st, more than 72 hours after Katrina left New Orleans in its wake, the decision was made that former Bush aide, Dan Bartlett, would show Bush a video tape put together by White House staffers, showing just how horrific the situation in New Orleans was. Subsequently, it was decided after the tape had been viewed, that Bush should finally get off his presidential ass and fly into the Gulf Coast region on September 2nd. Finally, approximately 100 hours after a major U.S. city was destroyed, tens of thousands of citizens were either dead, injured, starving and/or displaced from their homes, the real Worst Disaster to ever hit the United States was coming to
"eyeball"
it for himself.
To make a long, sad story short, Bush signed an aid check for the city, then went on to make one of his stunningly simplistic speeches that are long on hyperbole and short on substance, and promised the full support of the Federal Government in rebuilding the city. We fast forward two years later and here is Bush once again. It was like
déjà vu
, he was interrupting yet another vacation. He was also busy touring America's VFW posts, lying through his teeth, about how well the Iraq War is going. He once again told the residents of New Orleans of his "all talk/no action" commitment to rebuilding their city. To date, more than $456 Billion has been spent to destroy Iraq and kill our soldiers. $116 Billion (or
25% of the Iraq money
) has been spent on New Orleans. Of that money, nearly $80 Billion alone, was spent on debris removal and Coast Guard protection. The rest of that
money
is uh, um uh, well quite frankly, nobody is really sure. There's only one thing we can all be sure of.
George W. Bush has done ENOUGH!
He shouldn't make any more decisions, he shouldn't give any more speeches, he shouldn't be allowed to touch anything and most of all, he really, really needs an extended vacation until his term ends. We the people, need one thing too,
a New President...