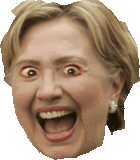 The time had come, the time has gone. The 2008 Iowa caucus is now in the history books. Senator Barack Obama and formerArkansas Governor Mike Huckabee have been officially named the winners of the most anticipated caucus in the history of caucuses. Candidates from both parties seemingly began their campaigns for Iowa style immortality before the ink from the 2006 elections had even dried. There's much to be discussed about the winners, but the same can be said about the losers too.
First off, pay no mind to the hordes of sycophants who vehemently spin the fact their candidates, who finished second, third or even fourth as the true winners of this primary exercise. There's no place and show category in politics, there's only win. I think one of the reasons people regard politicians with the same esteem they hold used car salesman, lawyers and parasites to name just a few, is the fact they think everybody listening is stupid. I don't discount the fact that many of our populace are not intellectual titans, but in electoral processes with no clear cut front runner, candidates can't afford to insult just anybody. They clearly need to be more discriminating and judicious as to whom they take for idiots.
Next off, I'll warmly congratulate republican winner, Mike Huckabee. The former Arkansas strongman easily defeated Mitt "Varmint Slayer" Romney, Fred "Father Time" Thompson, John "Father Timier" Mc Cain and Rudy "911" Giuliani. When you take a look at the one winner along with this particular group of losers, it makes you want to waterboard yourself. What enabled Huckabee to separate himself from this pack? Was it Jesus Christ, you think? Huckabee distinguished himself by knowing virtually nothing. He had no idea what the
NIE
is, he couldn't pinpoint countries such as Pakistan or Afghanistan on a map like most
U.S. Americans
and
he wanted to stop the steady flow of illegal Pakistanis streaming across the border from neighboring Asia. To his credit, however, he was very much aware of Jamie Lynn Spears getting knocked up at 16. He's a great prioritizer of data. But there's enough people in this country who will vote for anyone that mentions Jesus with the same regularity of a man on a baked bean, fig newton and raisin diet.
On the democratic side, the story was more about who lost than who won. Hillary is the big loser in this caucus. She was packed and ready to move back in to the White House when she announced her candidacy nearly a year ago. Who could or would dare to challenge the High Priestess of Pants Suits, after all? Barack Obama and John Edwards, to name two, did and both just happened to finish with more votes than the show pony did in this mid-western horse race. Obama finished first with 38% of the vote, followed by Edwards with 30% and Hillary with 29%. They will nearly split the 45 convention delegates awarded, but the overwhelming perception will be that of Obama whipping the pantsuit off of Hillary to win by a near double digit margin. This victory proved Obama to be a viable candidate, even in a state where nearly 95 out of every 100 residents is white. That is significant and will take on the momentum of a runaway freight train barreling towards New Hampshire on Tuesday.
This nominating process is far from over but as a comparative, before the New England Patriots could finish a perfect 16 - 0, they had to be 1 - 0 first, and that's exactly what the junior senator from Illinois has done. On the other side, Huckabee is walking on water boards to New Hampshire with the air of a winner but will leave with the stench of a loser. Huckabee may be shrewd, but he's basically an empty suit that is destined for a one way ticket back to Arkansas. Ultimately both parties will nominate candidates for the upcoming election. I'm going to predict the November pairing will be Obama v. Romney. I'm not objective, I very much hope Obama wins. If he does, this country will have reasons on many levels to be proud. We will have a deeply profound thinker and intellectually gifted orator. If Romney were to win, this country will have a president with a great head of hair and a contempt for varmints. The choice will be simple, hopefully the electorate will not be...